HOW TO PREPARE FOR VIDEO INTERVIEWS

​
​
Covid expedited the use of video interviews, and they are becoming more common in the hiring process. If you want to make a good impression, it is essential to prepare for the interview to give your best impression. The following tips will help you prepare for your video interview:
● Make sure you have downloaded and logged into your account (typically MS Teams or Zoom). Ensure you have a strong internet connection, that your video camera is working at a good angle, and that you have the appropriate lighting. Ensure your background is appropriate, and check your volume and video with a friend or family member days before ensuring no technical difficulties.
●Prepare thoughtful answers to questions about your qualifications and experience and your personality and interests in the position.
● Make sure you have your documents together, practice your responses, and research the company beforehand.
​
HOW DO I KNOW WHAT TO WEAR TO A VIDEO INTERVIEW?
​
There are many different answers to this question. It depends on the company, the industry, and what type of interview you're attending. Dress professionally: This is typically a go-to for most interviews. If you are unsure, it's always better to be overdressed than underdressed.
​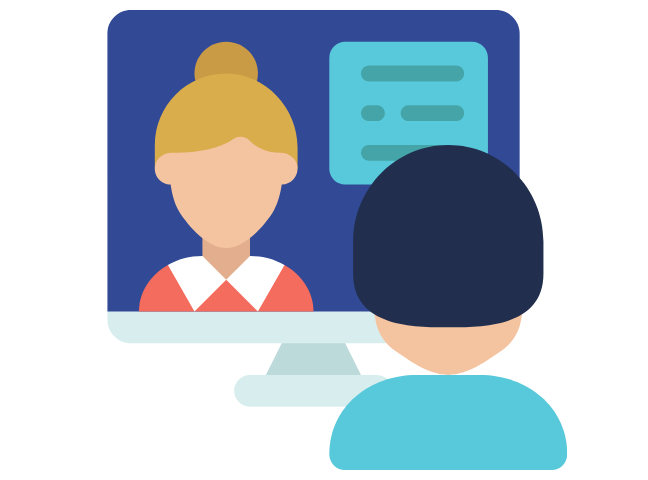 WHAT YOU SHOULD HAVE IN MIND DURING THE ACTUAL INTERVIEW
​
​Your interview is the most crucial part of the hiring process. The interviewer is looking for a candidate who can fit in with the company culture and values and meet and exceed the job requirements. It's vital to know about the company and its products before going into an interview. You should also know what you want from it in terms of salary and benefits. Overall remain calm and confident during this process. While it holds importance, you don't want to appear anxious.
​
SOME DO'S AND DON'TS OF A VIDEO INTERVIEW
​
Do's
● Be confident in your answers, but don't be afraid to say you are unsure and follow up with how you would find the correct answer.
● Speak clearly and make sure to articulate your words.
● Smile!
● Make eye contact with the interviewer.
​
Don'ts
● Don't curse or make inappropriate jokes.
● Don't be vague or unclear with your answers.
● Smile!
● Don't speak poorly of your current or previous employers.
​
Source(s):
Indeed.com. (2018).Video Interview Guide: Tips for a Successful Interview | Indeed.com. [online] Available at: https://www.indeed.com/career-advice/interviewing/video-interview-guide.
The Muse. (n.d.).The Right Way to Prepare for a Video Job Interview. [online] Available at: https://www.themuse.com/advice/how-to-prepare-for-video-interview.
Monster Career Advice. (n.d.).Best tips to prepare for a video job interview. [online] Available at: https://www.monster.com/career-advice/article/prepare-for-a-video-interview.
‌Flexjobs (2021).9 Video Interview Tips to Help You Succeed | FlexJobs. [online] FlexJobs Job Search Tips and Blog. Available at: https://www.flexjobs.com/blog/post/8-tips-successful-online-interview/.