LINKEDIN PROFILE SUGGESTIONS

​
​
LinkedIn is a great way to stand out for new job opportunities. Here are a few ideas to help in building or modifying your profile:
PROFILE PHOTO: Use a professional photo that clearly shows your face and/or family picture.

BANNER IMAGE: Professional image that clearly highlights what you do (for example, projects that you have worked on, technology that is a large part of your job, a team image, etc.).

HEADLINE: State what you do as clearly as possible in one sentence.

ACTIVITY: We recommend being active and posting, sharing, liking, and commenting on LinkedIn a few minutes each day and clock out 30 minutes a couple of times per week.

YOUR CURRENT & PAST POSITIONS: Make sure it's up to date and includes your title, company name, and time period. Members with "up to date" positions are discovered up to 18x more in searches by members and recruiters. Ensure these dates are accurate and match your resume.

YOUR LOCATION: Don't just list your current location on your profile (though you should absolutely do that.) If you're looking to relocate, be sure to mention the particular cities and states you're interested in.

KEYWORDS: We recommend adding specific keywords to explain in a few words what you do and what you provide. These keywords are tailored to your career expertise, so make sure you use them in key areas of your profile: Headline, About/Summary, Job Title, Job Description, and Skills/Endorsements sections.

EDUCATIONAL & PROFESSIONAL CREDENTIALS: Add not only your education but also certifications that you receive in this area.

RELEVANT SKILLS: Add skills that match to your career objectives to your LinkedIn profile.

REQUEST RECOMMENDATIONS: There's a drop down menu in the Recommendations section of your profile that makes it easy to reach out to specific contacts and request recommendations. Take the time to think about who you would most value a recommendation from and personalize your request.

CONNECTIONS: Identify connections that will add to your credibility and pursue those. Start off by connecting with people you already know. Try syncing your email contacts and using LinkedIn's search bar to find coworkers, friends, or classmates.
​
OTHER SUGGESTIONS:
​
ATTACHMENTS: Attachments (which can include resume, project list, references) - if you need help building this, please see this article: HOW TO BUILD A COHESIVE RESUME, PROJECT LIST AND REFERENCE LIST

ATTACHMENTS INTERESTS - COMPANIES/GROUPS: Choose interests that reflect how you want to be seen by others within the LinkedIn platform because they can often lead to new connections and potential job offers.

CAUSES: We recommend including the causes you care about, organizations you support and your volunteer experience as part of your professional identity.
​
SEE THE FOLLOWING IMAGES FOR MORE SUGGESTIONS:
​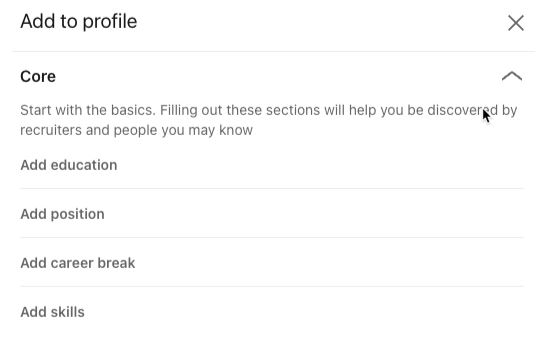 ​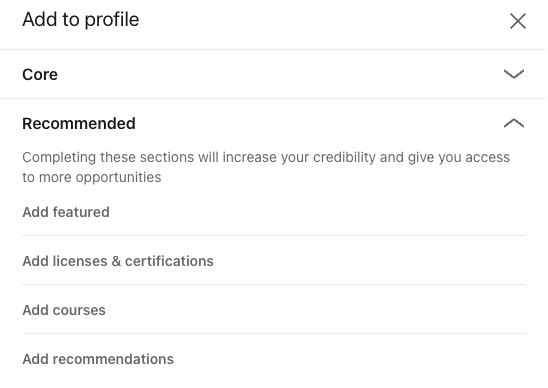 ​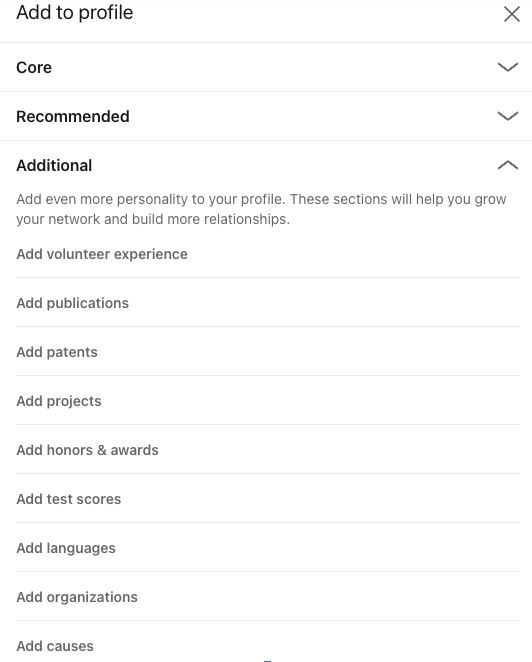 ​